BODY connects with MIND and surrenders to SPIRIT



| | |
| --- | --- |
| Posted on March 3, 2015 at 9:40 AM | |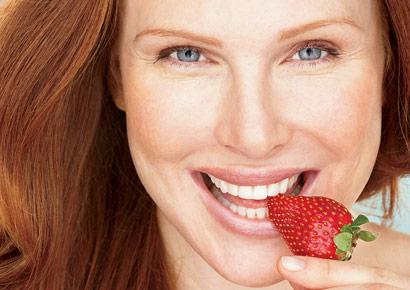 By: Karolina Boryca, CNP - Lover Of Life!
www.karolinaboryca.com
Facebook: https://www.facebook.com/karolnasholistichaven
Living in the city, we are exposed to environmental toxins that cause disintegrations with our skin, in other words - pre-mature aging, marks, discolorations, skin conditions etc.  Another factor in our skin's health is our diet; the foods we eat now are quite different and less nutrient dense in comparison to before the sixties. Because food ripens during travel, rather then in the soil, it loses a lot of the vitamins and minerals that it would normally be getting from the soil. One of the reasons behind this (among many other reasons) is that we live in a country that offers a variety of foods year round that are normally out of season. With that being said – it is important to eat organic foods and locally as much as possible.
Skin conditions are becoming more prominent, whether it is acne, Rosacea, eczema, psoriasis and so on; a skin condition is the result of being toxic on the inside and your body showing you a sign of toxicity from the outside. I am a big believer in "you are what you eat" – but I also believe that the skin products that you apply on your body are an important part of your skin's radiance and beauty.
1) EATING FOR PUFFY EYES:
Reduce your puffiness by first and far most - cutting out the "bad" salt! One of the reasons for puffy eyes can be an overabundance of salt in your diet (mainly from eating processed and restaurant foods). Your body starts to retain fluid causing the symptom of swelling. Fluid retention then causes your heart to work harder – causing your blood pressure to go up. So think of puffy eyes as a sign from your body to reduce your salt intake, in turn, helping prevent the risk of more complicated issues.
What you want to eat are foods loaded with potassium! Once you cut back on the salt and increase the potassium, this creates the perfect electrolyte balance for your body – reducing any water weight, including those puffy eyes!
Top Foods High in Potassium: Sweet Potatoes, Potatoes, Spinach, Avocado, Beet Greens, Bananas and Lima Beans

RECIPE: Go wild and throw together a salad mixed with baked sweet potatoes, beet greens, spinach and avocado topped with some goat cheese and some light dressing (EVO, honey and apple cider vinegar) - The perfect high potassium – low sodium treat!
TREAT THOSE PUFFY EYES FROM THE OUTSIDE:
So you ate a little too much salty fast-food last night, I hear you! Spark's wonderful "Frankincense Eye Gel" is a great way to treat puffy eyes from the outside by giving them the lift they need. Slather some on and let the coffee extract and aloe gel bring back those beautiful eyes by magically bringing down the swelling.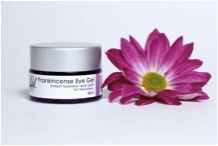 www.sparkskinsupport.ca

2) EATING FOR THOSE PESKY PREMATURE WRINKLES
I'm sure you've heard this before but I'll tell you one more time: sugar, processed foods, processed drinks, alcohols and smoking all contribute to more wrinkles. Your daily life, if very stressful, can also contribute to wrinkles. But again, stress can be related to a lack of certain vitamins and minerals that your diet is missing. You may also want to be careful in the summer – wearing a hat and of course sunglasses are important. What it all boils down to is making sure that your living the healthy lifestyle giving your body what it needs and not over exposing yourself to too much heavy sun between the hours of 10am – 4pm.
What you want to eat are foods high in good fats and antioxidants + drink at least 8-10 glasses of water a day!
Top Foods For Wrinkle Free Skin: Berries, Bell Peppers (except green), Dark Leafy Greens, Nuts, Dark Chocolate, Avocado, Salmon, Coconut Oil
RECIPE: Feed those wrinkles with Dark chocolate strawberries rolled in finely chopped walnuts. You can buy cacao nibs and make the chocolate yourself – or you can buy chocolate chips and melt them. Roll your strawberries in the melted chocolate, dip in your chopped walnuts place on a tray and put them in the fridge for about 40 minutes…YUMMM, wrinkles never felt this good!
TREAT THOSE WRINKLES FROM THE OUTSIDE:
You want some extra love & care and you're looking for a faster result – the natural way? Spark carries some fabulous wrinkle treatments that you will be sure to fall in love with. Two new products were recently created to iron out the wrinkles. The "Seaweed Serum & Seaweed Eye Gel" both work like magic and you can see results within minutes. Another amazing product, and their best seller is the "Anti-Aging Cream", it's amazing how smooth your skin will look after this wonderful edible cream.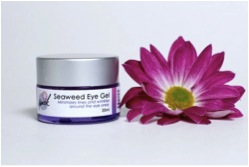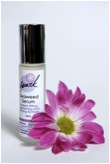 www.sparkskinsupport.ca

3) EATING FOR ACNE -FREE SKIN
Like wrinkles, foods that affect acne are usually processed foods, sugars, and alcohols, but they can also include greasy fried foods and the the wrong type of fats. A lot of research has been done on the connection between blood sugar control and acne, which makes complete sense because when your blood sugar is out of wack, so is your diet.
What you should be eating are whole foods consisting of smart fats and antioxidants. This is a clean diet – as I mentioned above acne is a symptom of toxins that have accumulated in your body. Take it as a sign for starting a program for the prevention of something bigger. Being someone that's suffered with acne from a young age, I understand how hard it is to conquer this dreaded skin condition. It takes a lot of hard work and your faced with many challenges – everyone is different, be patient and be kind to yourself, it will all work out in the end!
Top Foods For Acne Free Skin: Berries, Avocado, Coconut Oil, EVO, Sardines, Salmon, Ground Flax Seeds (oil), Olives, Almonds, Brussel Sprouts, Leafy Greens ….and so much more
RECIPES: Throw together a smoothy with mixed frozen berries, avocado, almond butter and ground flax seeds (oil) + add some full fat coconut milk for a creamy treat
BONUS….I love roasted brussel sprouts so I had to throw this in! Bake brussel sprouts in olive oil with walnuts in the oven (tip: cut the brussel sprouts into 4 and broil for two minutes in the end to get a "crispy style" brussel sprout) – delicious pairing with mustard crusted salmon!
TREAT THOSE PIMPLES FROM THE OUTSIDE:
Acne can leave scars and unwanted marks so while it is extremely important to treat the inside, treating the outside helps towards a faster healing. Spark carries a lovely "Healing & Moisturizing Cream" that's specifically designed for blemishes and pimples. It's important to start treating your acne with something non-toxic since it will need tender love and care with your new super clean diet!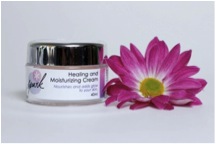 www.sparkskinsupport.ca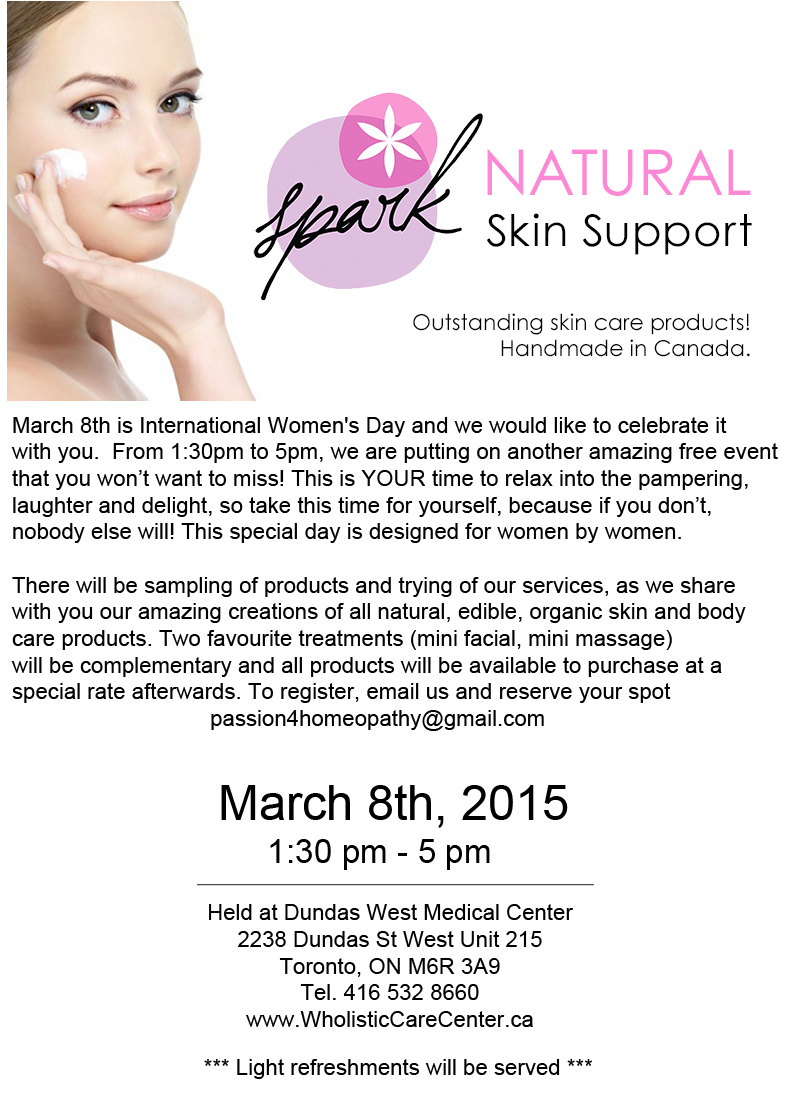 To register, please click on the link and fill out the form:
http://www.eventbrite.ca/e/spark-natural-skin-support-party-happy-womens-day-tickets-13507620657
Categories: None