BODY connects with MIND and surrenders to SPIRIT



| | |
| --- | --- |
| Posted on March 3, 2015 at 11:20 AM | |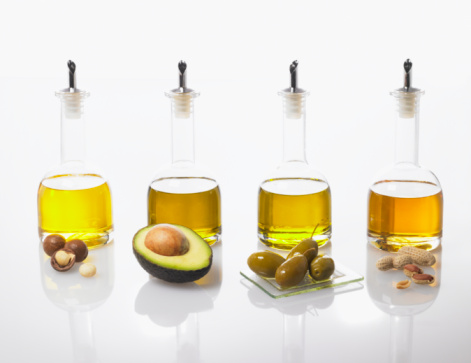 Jessa Wright YTT, BA, Nutritional consultant
Canola oil, olive oil, safflower oil, avocado oil, coconut oil – Is it GMO-free? Does it have a high smoke point? Does it go rancid easily? What are the healthy benefits? When it comes to choosing cooking oils we have so many options and a mix of information that it can be difficult to decide which one will work best for you and your cooking needs. This quick guide will help you sort through the misinformation and find an oil that is right for you!
What is a smoke point?
Every oil has it's own smoke point. A "smoke point" is the maximum temperature to which the oil can reach before it becomes damaged by the heat. A damaged oil results in discolouration and smoking of the oil. When an oil becomes damaged it releases free radicals into the body leading to disease and illness. Even more concerning, while the damaged oil is smoking in the pan it is producing carcinogens in the air. You are breathing those carcinogens in which also leads to disease and illness in the body, the most concerning disease being cancer. Therefore, before you toss any old oil into that pan, let's look at what oils are best for different types of cooking.
What is polyunsaturated fat?
Polyunsaturated fat is the least stable kind of fat and therefore should never be heated. Yes, that's right - do not heat these oils! When these oils are heated they are more likely to produce free radicals because they become damaged. These are oils like grape seed oil, flaxseed oil, and safflower oil. You may want the good fat and omega-3's from certain healthier oils like flaxseed oil, which is great! Instead of heating these oils, simply use them in salad dressings, sauces, or drizzling over your food. Not to mention the bonus of adding flaxseed oil to your morning smoothie for a quick hit of healthy fat!
What is monounsaturated fat?
Monounsaturated fat is more stable than polyunsaturated fat and therefore can be used in low-medium heat. Any higher and, once again, the oil will become damaged and release free radicals into the body. Since we want to avoid this, use monounsaturated fat when steaming and sautéing your vegetables to receive maximum benefits. These oils include olive oil, avocado oil, and macadamia nut oil.
What is saturated fat?
Saturated fat is the most stable oil and thus can be used in high heat cooking. My favourite: coconut oil! Not only does coconut oil taste incredible, but there are many additional benefits - If you keep a big jar of coconut oil in your kitchen (Costco has a huge organic tub of coconut oil for a great price!) you can use it as a moisturizer and in oil pulling.
ALERT: Watch Out for GMO
Genetically modified crops are a reality when it comes to picking your oil. Watch out for canola oil, soy oil, cottonseed oil, and corn oil which are all made with GMO crops. GMO's have multiple damaging effects on the body including, but not limited to immune suppression, cancer, and allergies. If you do choose to use any of these oils, be sure to check for the verified GMO-free label.
Quick + Easy Oil Guide:
• Oils for salads or drizzling over food (salad dressing, sauces)
• Flaxseed Oil
• Wheat germ oil
• Hazelnut oil
• Oils for low-medium cooking (sautéing, steaming)
• Extra virgin olive oil
• Avocado oil
• Macadamia nut oil
• Oils for high heat cooking (baking, frying)
• Coconut oil
• Palm Oil
• Animal fat
The information about oils can be overwhelming, but a quick change from canola oil to coconut oil can have great impacts on your health. Make sure you use your oil at the correct temperature, avoid GMO's, and pick an oil with mega-watt health benefits like coconut oil or flaxseed oil. This simple change will leave you feeling invigorated!
Categories: None