BODY connects with MIND and surrenders to SPIRIT



| | |
| --- | --- |
| Posted on April 1, 2015 at 1:40 PM | |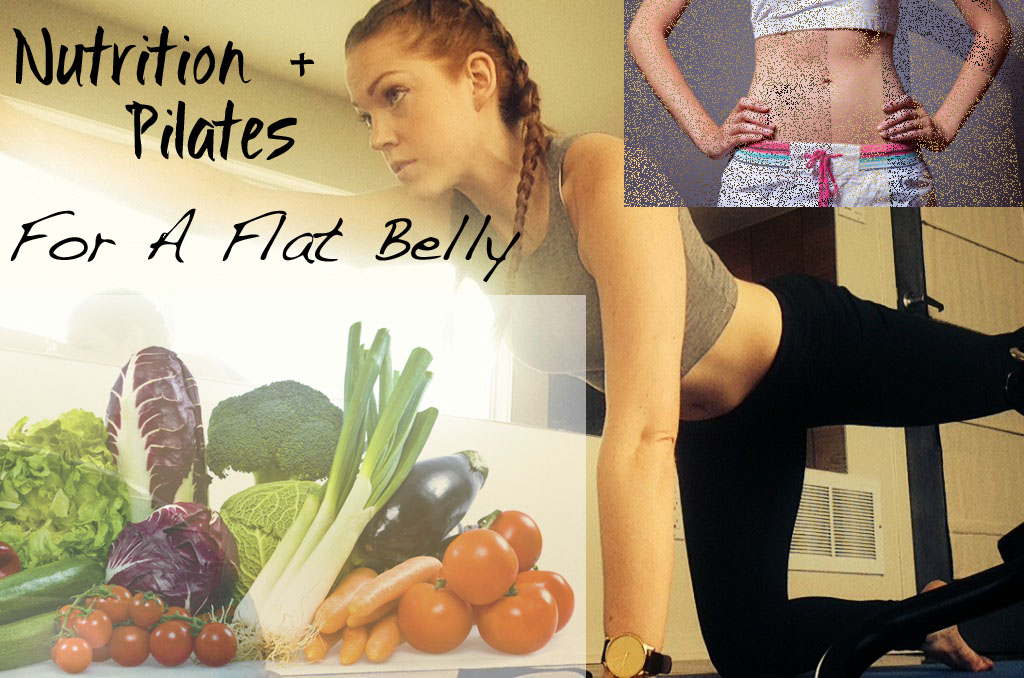 By: Karolina Boryca, CNP & Brittany Coughlan, Certified Pilates Instructor

Do you ever wonder why you can't achieve the flat belly that you desire?  Karolina Boryca and Brittany Coughlan have written this article just for you, including:  3 nutritional tips and 3 pilates moves to give you a natural tummy tuck just in time for bikini season.
3 NUTRITIONAL TIPS FOR A FLAT BELLY

1) TAKE PROBIOTICS

While Probiotics are becoming more and more popular, scientists have known for decades that they can boost your health. Probiotics can be found in many foods such as sauerkraut, kefir, kombucha and miso, I'm a firm believer that you can never have enough Probiotics (good bacteria) in your diet. Since our diets are usually lacking in foods containing good bacteria, I would suggest taking a Probiotic supplement to achieve that flat tummy that you desire.
Other things that could potentially lower your good bacteria and increase your bad bacteria: chlorine from non-filtered water, stress, sugar, coffee and refined carbohydrates.

Are you having tummy troubles like diarrhea, bloating or indigestion –Watch this very informative video on 3 Natural Methods To Get Rid Indigestion:
2) EAT MORE COMPLEX CARBOHYDRATES AND LESS GLUTEN

Your diet is an important aspect of achieving the flat belly that you desire. You are what you eat – am I right? Most nutritionists would tell you that you need to remove gluten, sugar and dairy in order to achieve better digestion and in turn a super sexy flat belly. Unfortunately it's true; all these foods are very acidic and they cause havoc in your digestive tract, so it would be in your favor to remove all three in order to reach your goals.
The secret here is to eat a diet full of complex carbohydrates, good proteins and drink 8-10 glasses of water a day. This is a lifestyle change more so then a temporary diet.  It's become my passion to run Cooking Classes and Healthy Living Workshops in order to provide guidance to those of you choosing to live a healthier lifestyle (Check out www.karolinaboryca.com for more information).

3) DRINK LEMON WATER

While this seems like a simple tip, lemon water really does a tummy good! Since constipation and bloating are the most common digestive issues, my last tip is to start your day off with a glass of warm lemon water. This prevents digestive discomforts by promoting an alkaline environment in your belly – get ready to feel amazing!
TIP: If you're suffering from constipation - I suggest a day of fasting with at least 3-4 glasses of warm (half cold filtered water and half boiled water) lemon water on the day of to get things moving. If you get hungry, drink fresh squeezed juices from a juicer. If you aren't sure about the difference between a juicer and a blender, watch this video for more information: 
RECIPE:

Click the lnk below to see my delicious Recipe -  "Blueberry & Lemon Detox Water" for a flatter belly!

http://www.wholisticcarecenter.ca/apps/blog/show/43202441-flat-belly-blueberry-lemon-detox-water-recipe

Karolina Boryca, CNP

website: www.karolinaboryca.com 
Facebook: https://www.facebook.com/karolnasholistichaven" target="_blank">https://www.facebook.com/karolnasholistichaven

YouTube channel:  https://www.youtube.com/channel/UCn4vylRKhgNHBa5aq_jKkkw" target="_blank">https://www.youtube.com/channel/UCn4vylRKhgNHBa5aq_jKkkw

Email Karolina to book a consult:  Karolina.boryca@gmail.com
PILATES FOR A FLATTER BELLY

The key to a flat belly is not hours of ab curls and crunches. The core is made up
of many layers of muscle, with fibres that run in all different directions and weave
around each other. The more dynamic the exercise — twisting, rounding,
arching, bending, and lengthening through the torso — the more challenging it is for
the core. That means, if you only round forward, like in an ab curl, you're really
only strengthening part of your core. Ab curling alone will not help you achieve that flat belly!
Here are a few great dynamic exercises you can do at home to challenge your
core strength, and tighten up your mid-section!
1) KNEELING ROTATION

Kneel with your shoulders and hips stacked in a straight line. Place hands on
top of your head and grow tall through your spine, imagine reaching up into
your hands. Turn your chest and ribs to the right and then the left, keeping your
pelvis as still as possible. Rotation is one way to work oblique muscles or side core.
Tip: pull your low abdominals in while you rotate, as if you're pulling a belt tight
across your hip bones.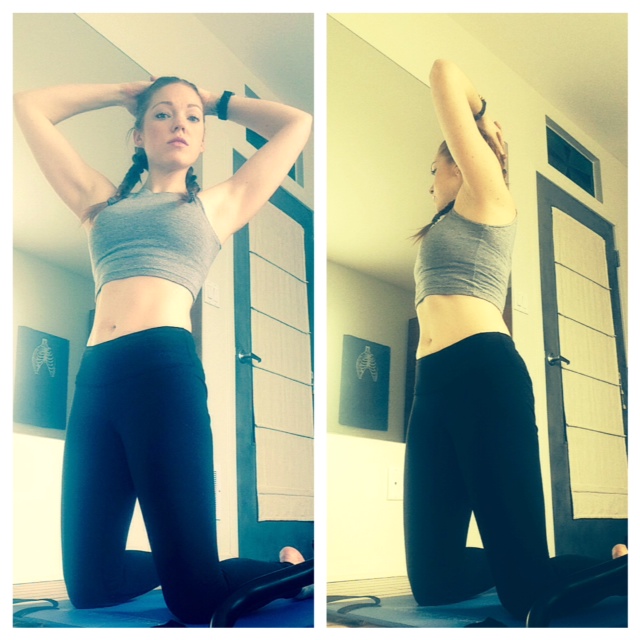 2) AB CURL ON MINI BALL

If you don't have a Pilates mini ball, seen here, you can use a kid's dodge ball or
anything similar. The ball will help the spine to move smoother, and encourages
a more dynamic range of motion. Lying on your back with your feet bent, position
the ball beneath your shoulder blades. Arch back over the ball and extend your spine,
nod your chin and curl forward like an ab curl. This is a great exercise for the
rectis abdominis, or "six pack" muscles. Tip: leave a little space under the
small of your back as you curl forward so that your low back stays neutral and
safe.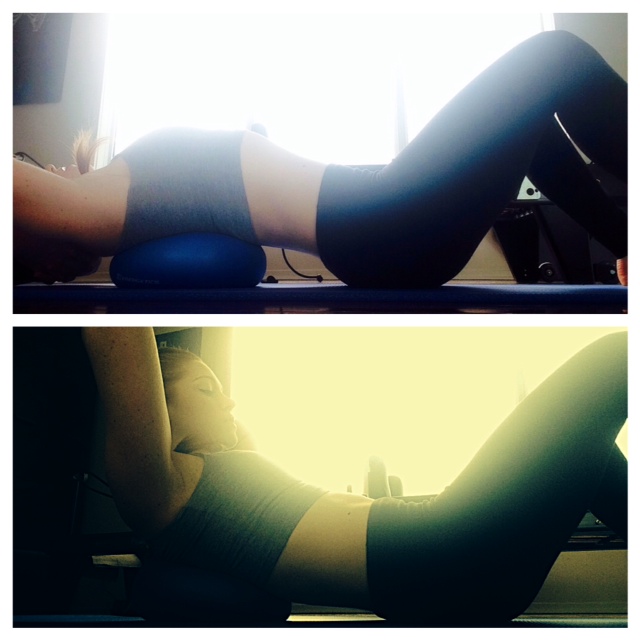 3) SINGLE ARM/LEG REACH

This exercise really gets all of the fibres of the core muscles working together. It's
a really great exercise! Start on all fours, and grow tall through the arms. Press
into opposite hand to knee, and lift the other limbs reaching them long, repeat on

the other side. Hold your belly tight the whole time! Tip: keep both of your
hip bones pointed down to the ground as you reach the arm and leg, envision

you've got headlights on your hip bones and you want them to shine straight
down.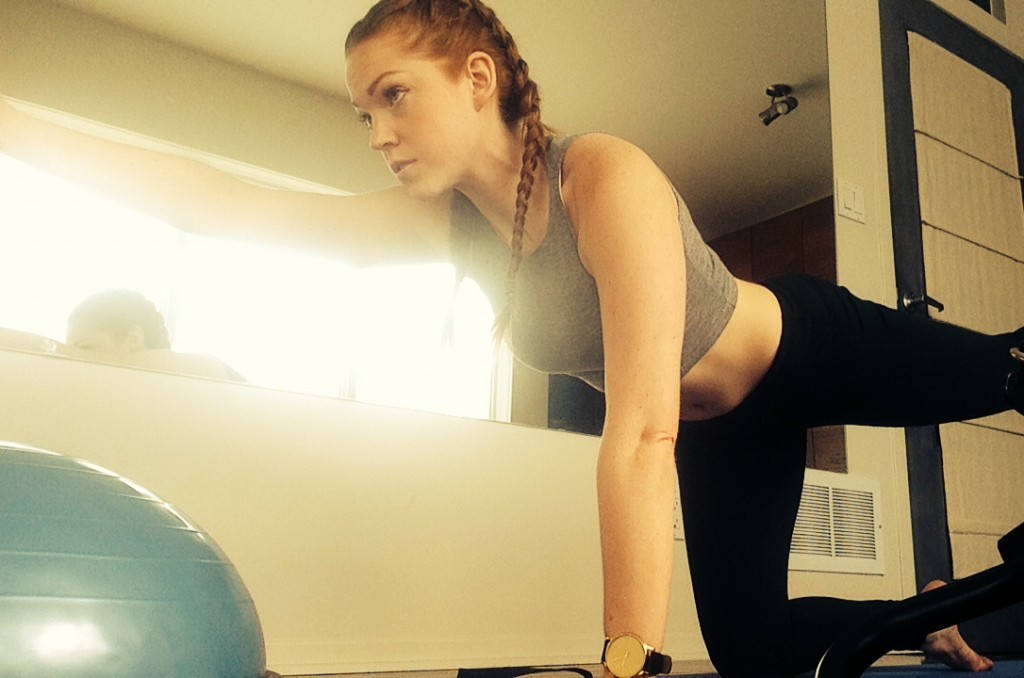 Brittany Coughlan, Certified Pilates Instructor

Brittany's Blog: www.ftpilates.ca

FB Page: https://www.facebook.com/finetunepilates" target="_blank">https://www.facebook.com/finetunepilates
You Tube Channel: https://www.youtube.com/user/finetunepilates
Email: ftpilatesinfo@gmail.com

Categories: None