BODY connects with MIND and surrenders to SPIRIT



| | |
| --- | --- |
| Posted on April 26, 2016 at 5:45 PM | |
Qi Gong (CHEE KUNG) is a set of exercises that dates back thousands of years, to the origins of Taoisim. It consists of literally thousands of techniques, and is part of the overall Traditional Chinese Medicine system. Much like acupuncture and herbal treatments, Qi Gong addresses the natural radiant energy inside of all of us. We are surrounded and permeated by electromagnetic fields, that tie us to the earth's gravitational pull. When our emotions or lifestyle conflict with the natural harmony in our environment, it results in this energy stagnating, much the same way blood pools when you have a bruise. We all know of someone whose stress or anxiety has resulted in chronic digestive issues, as an example.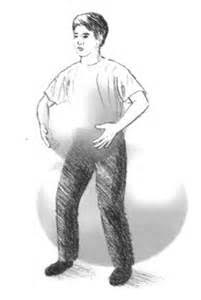 Amongst the litany of exercises, there is the base 200+ Taoist poses, from which all Qi Gong and Martial Arts were formed. Deceptively simple and easier to learn than more advanced techniques, standing poses help you use gravity to drive through blockages, like a plumber's tool through a drain. The below picture represents the most basic posture. Correctly performed, it has the same effect of going from a 40 watt bulb, to a 100 watt bulb in your living room.
Standing comfortably with your feet shoulder width apart, keep everything relaxed, but straight. Tucking your chin in slightly will align your head with all your vertebrae, into a straight line. You can also tuck in your pelvis slightly, but that can come with time. Maintaining a relaxed and natural flex in your knees, feel all your weight sink into your feet (don't let your knees bend past your toes). At the same time, create the sensation that you are pushing downward with your hands, as if pushing an object. The intent is to push with your hands and feet, while remaining straight and balanced. The picture shows fingers down, but you can also push down with your palms instead. For those of you that have ever performed planks or wall sits, this combines both into a remarkably intense exercise. You will feel noticeably warmer in seconds, and will sweat within minutes. Best of all, it helps clear out latent emotions, and you will sleep better.
Keep the Hamster on the Wheel everyone!
Categories: None